Agricultural equipment manufacturer Case IH, supply-chain specialist Toyota Tsusho East Africa and Toyota Tanzania sponsored an agricultural event in Tanzania to support the agribusiness sector in East Africa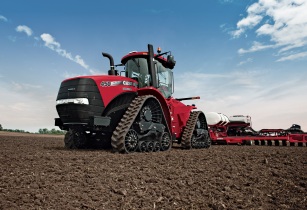 Case IH's tractor line-up includes units that are suited for small to medium-sized farms. (Image source: Case IH)
The Agribusiness Congress East Africa that took place on 28-29 January 2015 in Dar es Salaam was hosted by the Agricultural Council of Tanzania. The congress brought together the main participants of the agricultural sector in East Africa, including government authorities, key decision makers, corporate farms and industry suppliers.
Christopher Chiza, Tanzanian minister for agriculture, said that the conference, along with a concurrent exhibition, served as an important and international platform for sharing knowledge, promoting advanced technologies and for discussion on the region's current challenges and future outlook.
Patrice Loiseleur, manager of Case IH international agriculture projects and corporate farming, added, "Case IH's sponsorship reflected the company's strong commitment to support the agribusiness sector growth in East Africa."
The two-day event was attended by nearly 250 agricultural experts who discussed the most pressing issues for the region's blossoming agribusiness sector.
Marco Raimondo, business director of Case IH for Africa and the Middle East, said, "With Toyota Tsusho East Africa, we aimed to further position ourselves as a valuable partner for farmers and large-scale farming projects in the East African markets in their accelerated path toward agricultural development and mechanisation."
Driven by a growing population, Africa's demands for food will drastically increase in the coming years. This is particularly true for Tanzania where the population is expected to triple in the next 35 years, revealed Raimondo.
"Africa is the world's most developing market for the agricultural business. Especially in Tanzania, agriculture has a big potential for growth and it is expected to be one of the most important market in East Africa in the next few years," he added.
Loiseleur said that Case IH is focused to provide East Africa with all the support needed by their growing agriculture sector.
"Our company is ready to offer the best agricultural equipment available in the market and provide customers with a wide array of professional skills, with solid product and agronomic backgrounds," he noted.
Case IH products are distributed by Toyota Tsusho East Africa in Tanzania, Kenya and Uganda.