Around 12,000 Kenyan households have benefited from a climate-smart farming project backed by the UN's Food and Agriculture Organization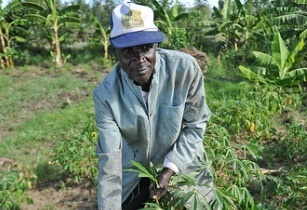 2,000 farmers in Kenya are expected to benefit from a climate change project to be rolled out in the country. (Image source: CGIAR Climate)
The programme has so far been introduced to the Community Research in Environment and Development Initiatives in Bungoma, Rangala Family Development Programme in Siaya and the INADES Foundation International Kenya Office in Machakos.
"There is growing concern about potential stress on fragile ecosystems and rural communities, especially in the arid and semi-arid zones and some highlands," the organisation said in an online statement.
Patricia Atieno, who is expected to benefit alongside 2,000 other farmers from the project in Siaya, said it is not only maize that she is growing on her three-acre family farm.
"Since last year, I have learned to inter-mix crops with drought-tolerant varieties," she said.
Barrack Okoba said the project aims to support small-scale farmers to combat the negative impacts of climate change through the promotion of cover crops and water management.
Other climate change projects taking place in Kenya also include soil and water conservation measures.