Zambia's Mpongwe District produces more than US$18,000 worth of crops annually, of which US$10,000 accounts for small-scale farmers, district commissioner George Nsali stated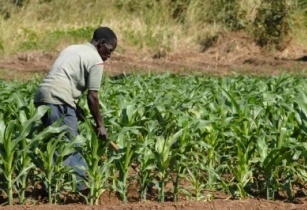 (Image source:
Nsali revealed that the government is set to roll out land cards to enable small-scale farmers to borrow money from commercial banks.
"The land cards would work as surety in terms of land that is held under customary tenure because the land that is under customary tenure retains the power to the chief," he said.
Mpongwe has arable land of 764,000ha, covering 81 per cent of the district landmass, out of which 28,404ha - around four per cent - is under maize production.
Around 80 per cent of the population in Mpongwe relies on agriculture and requires the movement of inputs as well as harvested produce, highlighting the growing need for a good road network.
Crops that have been cultivated in the district include soya beans, which cover 12,338ha of land, and wheat, at 5,628ha.
"Mpongwe is an agricultural area and it produces crops annually to a tune of US$18,000 because small-scale farmers statistically contribute close to US$10,000. So, if we had to actually add what commercial farmers produce, it would come to US$18,000," Nsali said.