The Kagera regional commissioner (RC) Salim Kijuu has advised farmers in Kagera, Tanzania to use Robusta varieties that are resistant to coffee wilt disease (CWD) to improve their incomes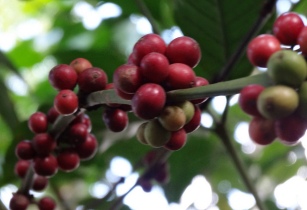 Farmers in Kagera urged to use Robusta varieties which are resistant to the coffee wilt disease. (Image source: michael/flickr)
Four CWD resistant Robusta varieties, named Maruku 1, Maruku 2, Muleba 1 and Bukoba 1, were recently released by the Tanzania Coffee Research Institute (TACRI) at Maruku in Bukoba rural district. "Farmers are advised to use the varieties which are resistant to the coffee wilt disease (CWD) to improve their livelihoods," Kijuu said.
TACRI Maruku zonal manager Nyabisi Ng'homa said that efforts were being taken by researchers to multiply the four varieties and distribute them to all coffee farmers.
During a farmer exchange visit held at Rwigembe village, in Muleba district last week, coffee farmers appealed the TACRI for more education, agricultural inputs and fertilisers to enable them to double production. The event brought together about 30 small-scale coffee farmers from Bukoba, Misenyi and Muleba districts.
CWD is a fungal infection that affects Robusta coffee trees and has caused serious losses to coffee production in Africa, the Daily News reported. Since its outbreak in 1997, CWD has been reported to affect Robusta coffee in the three districts of Kagera, Bukoba, Muleba and Karagwe. The disease has seriously affected the livelihood of about 70,000 families who depend on Robusta coffee.
TACRI is working with CABI and other countries in East and Central Africa to implement short-term as well as long-term programmes to limit spread of the disease and formulate effective control measures.