The Ethiopian government plans to lift ban on the export of local gluten-free grain teff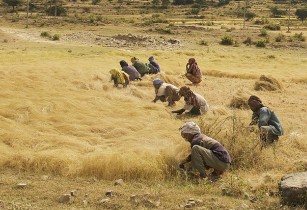 Teff is indigenous to Ethiopia, and is high in protein, amino acids, calcium and iron. (Image source: A.Davey/Flickr)
It is understood that the indigenous Ethiopian grain could follow in the footsteps of its South American counterpart, quinoa, in becoming the next superfood.
Teff seeds are high in protein, amino acids, calcium and iron, and low in saturated fat, prompting interest from health food purveyors around the world, in addition to the growing global Ethiopian diaspora.
The surge of interest, however, fuelled fears that high exports would push up the domestic price of the local staple, as was the case with quinoa, prompting the government to install the current embargo in 2006.
Even with the present ban lifted, the export of the grain will still be tightly controlled, with just 48 farms in the country licensed to produce teff for sale overseas.
The grain's genetic makeup will be mapped and specially labelled to ensure that it can be traced back to the licensed commercial farms.
"It has to be known that the teff is exported originated from Ethiopia," said agriculture minister Sileshi Getahun.