Although pesticides play an important role in agricultural development, certain Highly Hazardous Pesticides (HHPs) used in many countries for agricultural and public health purposes, pose significant health and environmental risks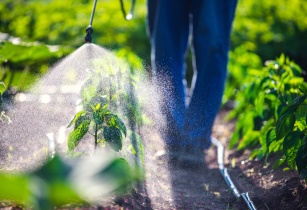 A strengthened pesticide management system enhances the protection of humans, animals and the environment, thereby advancing ONE HEALTH's global goals and targets. (Image source: Adobe Stock)
According to internationally accepted classification systems, HHPs are pesticides which are acknowledged to present particularly high levels of acute or chronic hazards to health or the environment.
Following the FAO/WHO guidelines on HHPs, the Food and Agriculture Organisation of the United Nations (FAO) and the Government of Zimbabwe, through the Ministries responsible for Health, Agriculture and the Environment, undertook a three stepwise approach for HHP risk reduction namely identification, assessment and mitigation.
The process started off with the identification of 44 HHPs according to the eight FAO/WHO criteria. In 2022, an inclusive multisectoral process involving the aforementioned Ministries undertook a study to identify HHPs and the risks associated with their management and use. The study collected data on farmers' and retailers' pesticides, knowledge, attitude and practices. The study identified more HHPs used in Zimbabwe; assessed the risks associated with pesticide handling; investigated the availability and use; and assessed regulatory compliance by pesticide retailers in the country.
More than 100 stakeholders in the pesticides management value chain came together in Harare to appreciate the report's findings and launch a national HHPs mitigation strategy while fostering collaborative synergies among stakeholders key to sustainable pesticide use in Zimbabwe. The study was conducted under the auspices of the European Union-funded Capacity Building Related to Multilateral Environmental Agreements of African, Caribbean and Pacific countries (ACP-MEAs 3), through the thematic working group on HHPs.
Following up on a presentation of the ACP-MEAs, three HHPs thematic group findings, the launch informed the development of a national HHPs mitigation strategy framed under short-term, mid-term and long-term interventions. The launch agreed that the strategy would be bound by guiding principles which will factor and incorporate constitutional and national blueprints such as the National Development Strategy 1 (NDS1) and the WHO/GHS to develop a strengthened pesticide management system that reduces the risk of HHPs to the best of its ability.
A presentation on the inception of the HHP mitigation strategy set the roadmap for Zimbabwe to reduce the human and environmental risks associated with handling and using HHPs. Critical issues raised as part of the mitigation strategy were the need to train and raise the awareness of farmers, retailers and all key stakeholders on the HHPs, and to develop alternatives or phase out plans for the HHPs. Other elements of the HHP strategy plan that were prioritised, included strengthening the enforcement and regulation of pesticides including HHPs and providing the legal environment that allows bio-pesticide registration.
In consultation with all relevant stakeholders, FAO and the Government of Zimbabwe will develop a draft HHP mitigation strategy which will be presented to all stakeholders through national consultation workshops. The government of Zimbabwe will validate and endorse the final draft strategy, to take forward the efforts to reduce the impact of HHPs in Zimbabwe.