Agriculture ministers and senior officials in the Near East and North Africa region will meet with civil society organisations and representatives from the private companies at the 34th Session of FAO Regional Conference for the Near East (NERC 34)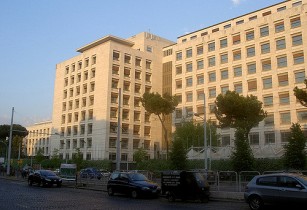 The NERC 34 will be held in Rome between 7 May - 11 May. (Image source: Dag Terje Filip Endresen/Flickr)
The NERC 34 will be held at the FAO headquarters in Rome, between 7-11 May 2018.
"Regional conferences are essential for ensuring the effectiveness of FAO's regional work but also in defining its work priorities for the following biennium," said Nabil Gangi, FAO deputy regional representative for the NENA region and NERC 34 secretary.
About 150 delegates including 15 government ministers from countries across the Near East and North Africa region will attend the NERC 34.
Countries such as Somalia and Yemen, which are suffering from conflicts and food crises will be the focus of the conference.
The conference will also see discussions on agroecology, agricultural transformation, youth migration, and ways to tackle transboundary plant, animal and fish pests and diseases.
Transboundary diseases are highly contagious and have the potential for very rapid spread, irrespective of national borders, according to the FAO.
Civil war in Somalia has displaced millions even as the country battles drought and famine.
In Yemen, over three million have been displaced by conflict and about 17mn people are considered food insecure according to the World Food Programme.