Zambia need to better manage agricultural risks such as drought, floods, disease and commodity price volatility to minimise losses and put agriculture on a stronger footing in the country, according to the World Bank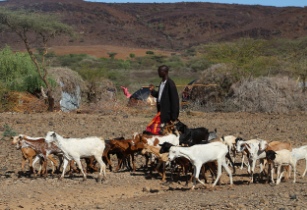 Zambia should manage adverse climate and livestock diseases to improve agri-production. (Image source: Mikey Harper/Flickr)
The report, entitled 'Increasing agricultural resilience through better risk management in Zambia, aims to analyse the principal risks to the Zambian agricultural sector and ways of managing them.
According to the World Bank report, risk events were a major factor contributing to the decline in agriculture's share of Zambia's gross domestic product (GDP), which fell from 8.2 per cent during the period between 2011 and 2015, to 5.3 per cent in 2015.
"In terms of the severity and frequency of adverse impacts, and how they affected food security, rural livelihoods, and the broader economy, these varied somewhat between agricultural subsectors and between different regions in Zambia," according to the report.
"Drought and outbreaks of animal disease are the principal risks affecting livestock. Exposure to the consequences of these and other risks can be effectively limited through risk management systems tailored to the conditions prevailing in a country's agricultural sector," the report has further added.
World Bank has been focusing on agricultural risk management in Zambia through Productive Diversification in African Agriculture and Effects on Resilience and Nutrition (PRODIVA) and Zambia Integrated Forest Landscape Programme (ZIFLP) to boost climate-smart agriculture, improve livelihoods and resilience and reduce greenhouse gas emissions.