The UN's Food and Agriculture Organisation (FAO) has launched a facility to help disaster-hit farms worldwide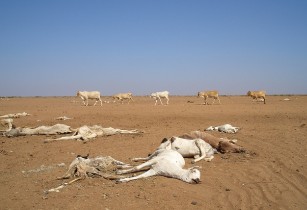 Damage from natural disasters, like this drought in Kenya, affect agriculture more than any other sector. (Image source: Oxfam International/Flickr)
The purpose of the facility will be to help countries to improve their preparations and responses to disasters, which, a recent UN report showed, affect the agricultural sector more than any other.
The facility, launched this week, will aim to direct technical support to where it is most needed, with a particular emphasis on risk reduction.
FAO director-general José Graziano da Silva said, "With this new effort, we are aiming to limit people's exposure to risks, avoid or reduce impacts where possible, and enhance preparedness to respond quickly when disasters occur."
Graziano da Silva added that studies have shown every US dollar spent on risk reduction to yield up to a four-fold return in terms of diminished damage.
The report, which prompted the move, showed that 22 per cent of all damages inflicted by natural hazards such as drought, floods or tropical storms are registered within the agriculture sector, which accounts for as much as 30 per cent of GDP in countries like Burkina Faso, Kenya and Mozambique.
"Agriculture and all that it encompasses is not only critical for our food supply, it also remains a main source of livelihoods across the planet.
"While it is a sector at risk, agriculture also can be the foundation upon which we build societies that are more resilient and better equipped to deal with disasters."
The FAO's report was based on the analysis of 78 post-disaster needs assessments in 48 developing countries spanning the 2003-2013 period.