The Rwanda Agriculture Board (RAB) has drafted a bill seeking to promote development of new crop varieties in the central African country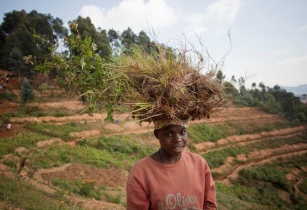 The role of plant variety protection is to improve varieties of plants, which are drought resistant. (Image source: Gates Foundation/Flickr)
According to Gervais Nkuriza Ngerero, director-general of the seed department at RAB, the bill is expected to protect plant varieties developed by Rwandan researchers.
"Rwanda has developed iron rich bean varieties that it exports to several countries, including Kenya. If we have copyright law, nobody can claim it is their discovery. Even other countries will supply us varieties knowing there is a plant variety protection law," he said.
Blaise Ruhima Mbaraga, division manager in-charge of intellectual property registration at Rwanda Development Board (RDB), added that the bill will help improve agriculture productivity and industry development as it will serve as an incentive for researchers to develop superior varieties.
Fernando Dos Santos, director-general of African Regional Intellectual Property Organisation (Alipo), added, "Africa is striving to overcome famine in the face of climate change effects like drought or pests. By 2050, Africa's population will double to two billion and food demand will also double. Thus, it is important to protect new varieties to cope with the increasing demand for food."
In Rwanda, there are more than 200 varieties of beans, 10 varieties of maize, a variety of soya and 10 varieties of cassava, among others that were developed by Rwandan plant breeders.