Ghana has announced to offer 50mn free cocoa seedlings and bags of fertiliser to farmers to help improve their yield and income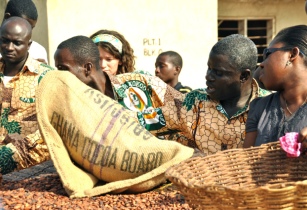 Cocoa is the chief agricultural export of Ghana and the country's main cash crop. (Image source: Rebecca Bollwitt/Flickr)
Mike Ofori Darko, district chief executive (DCE) of Ayensuano district in Ghana, said since cocoa was the backbone of the economy, increased production will help accrue more funds to enable the government to improve on country's infrastructure especially the road network and other social amenities.
"The minimum quality standards set by Ghana Cocoa Board (COCOBOD) exceed the benchmarks set in the international cocoa market. Ghana cocoa beans have established a reputation as the ingredient of preference for quality oriented chocolate manufacturers. That is why top brand chocolates and confectionery products are labelled with Ghana cocoa for the high-end market positioning and a symbol of quality," he added.
The COCOBOD has projected a production target of 850,000 metric tonnes for the 2014-2015 cocoa crop season.
COCOBOD early this year distributed 23 motorcycles worth US$72,922.60 from Mondelez International Cocoa Life to enhance cocoa extension service delivery.
As the world's second largest producer and supplier of cocoa, Ghana provides 20 per cent of the finest cocoa to chocolate and confectionery makers worldwide.