The Food and Agriculture Organisation of the United Nations (FAO) is providing technical assistance to strengthen the national capacity to manage Invasive Alien Species (IAS) in Zimbabwe under the framework of the European Union-funded ACP-MEAs 3 project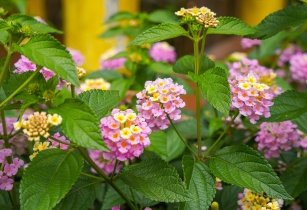 Zimbabwe spends US$50mn annually to fight invasive alien plant species like Lantana camara. (Image source: Adobe Stock)
Besides habitat destruction, invasive alien species are considered the second most significant threat to biodiversity and constitute one of the top five most important drivers of biodiversity and ecosystem services loss in the Intergovernmental Platform on Biodiversity and Ecosystem Services' Global Assessment Report on Biodiversity and Ecosystem Services (2019).
As a result of inadequate management and control interventions in affected areas of Zimbabwe, numerous species like Lantana camara, common myna, cactus, crayfish, and black and silver wattle are increasingly expanding their invasion ranges, adversely threatening ecosystem structure, integrity, biodiversity, and associated ecological services. This consequently affects ecosystems' production capacities, while also indirectly impacting the livelihoods of millions of people who depend on forests for food, commodities, energy security and related natural capital.
Speaking at the workshop, Permanent Secretary for the Ministry of Environment, Climate & Wildlife, Edward Samuriwo extended support to Zimbabwe in fulfilling its MEAs obligations on IAS, through the development of a national programme, along with action plans to lessen the impact of these alien organisms.
Samuriwo emphasised Zimbabwe's efforts to mitigate the threats of IAS by recognising the need to implement Article 8 (h) of the Convention on Biological Diversity (CBD) and Target 6 of the Kunming-Montreal Global Biodiversity Framework which calls for Parties to eliminate, minimise, reduce and or mitigate the impacts of IAS on biodiversity and ecosystem services by reducing the rates of introduction and establishment of other known or potentially IAS by at least 50%, by 2030.
"As a country, we have been trying to reduce the impacts of IAS on biodiversity and the economy. We are part of several multilateral environmental agreements. We are revising the Environmental Management Act (2003) and the National Biodiversity Strategy & Action Plan (NBSAP)," said Samuriwo. "By strengthening our policies, investing in research and education, fostering partnerships, and promoting sustainable practices, we can protect our environment, preserve our agricultural productivity, and ensure the well-being of current and future generations."
Furthermore, the government encouraged all stakeholders at the workshop to join hands and work collectively towards building a resilient and sustainable Zimbabwe where invasive species have no place. In addition, stakeholders encouraged the government to include IAS issues in the education curricula from primary to tertiary levels. Thinking about sustainability beyond this project, which includes funding from the government and the private sector, is critical to ensuring that the fight against IAS continues.