Scientists at the University of Greenwich in the UK are leading a research project to help African farmers boost their livelihoods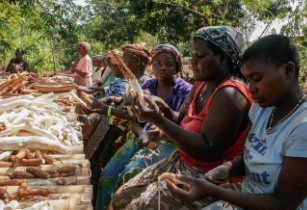 Farmers prepare cassava crop in Malawi (Photo: Lora Forsythe)
The Cassava Growth Markets Project ('CassavaGMarkets'), launched at the university's Natural Resources Institute, aims to generate the knowledge to empower smallholder cassava farmers to increase productivity, gain access to new markets and generate a stable income.
Cassava is an essential crop for millions of people in Africa, as it can be grown all year round and provides valuable food in periods when other crops are not available. Cassava can also withstand drought and be grown in poor soils.
The €3.2mn (US$4.2mn) CassavaGMarkets project is mainly funded by the European Commission's Food Security Thematic Programme. Research organisations from Nigeria, Ghana, Tanzania, Malawi, Uganda, India and the UK have come together in an international partnership to carry out the work.
Focusing on improvements to high-quality cassava flour and related products, CassavaGMarkets will also enable smallholder farmers to benefit from improved markets for their produce in a more environmentally friendly and sustainable way.
The climate for cassava
The project will be assessing the impact of climate change on cassava value chains and researching the cassava brown streak disease, which leads to large reductions in the productivity of affected communities. It will also investigate improvements to processing techniques that will improve profitability.
Project partners will be developing safety and quality management systems and investigating opportunities for sustained market growth.
Professor Andrew Westby, Director of the Natural Resources Institute, says, "We are delighted to start this important new project with our partners in sub-Saharan Africa and India. It addresses some of the fundamental challenges facing smallholder farmers as they develop new markets for one of their most important crops, cassava."
The Natural Resources Institute is also involved in several other large international projects, funded by the European Commission and the Bill and Melinda Gates Foundation, to improve the livelihoods of smallholder households in Africa who rely on tropical root and tuber crops.
Professor Keith Tomlins of the Natural Resources Institute has recently been elected as the new president of the International Society for Tropical Root Crops (ISTRC), the only forum in the world for bringing together root and tuber crop scientists and researchers under the same roof.