Farmers in Somaliland have learnt new techniques for growing crops on their farms following the implementation of the USAid Partnership for Economic Growth programme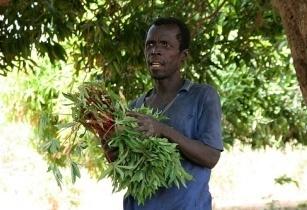 The USAID Partnership for Economic Growth programme hopes to improve agricultural skills for farmers like Ferhan seeking ways to enhance traditional farming methods. (Image source: Brice Blondel)
The project was set up in December 2011 in partnership with Amoud University and the Somali Agricultural Technical Group (SATG).
It aims to test several types of seeds for six crops to find the best seed varieties for the Awdal region and improve agricultural skills for farmers seeking ways to enhance traditional farming methods.
Ferhan, a 33-year-old farmer from the Awdal region who left school to help his family, has gained skills on the programme cultivating farmland instead.
Similar to other African farmers and hoping to learn new farming techniques, Ferhan worked on his father's five-hectare farm, providing for his wife and three children by growing crops including tomatoes, onions, peppers and kale.
"My father didn't have much understanding of pests and diseases. When he saw something strange, he sprayed it," Ferhan explained. "I was interested because I wanted to compare what they say with what I am doing. Plus I wanted to learn and develop new techniques."
Ferhan plans to increase his yields in the future and accumulate enough money to expand his farm with intentions to send some of his children to school in the city of Borama.