The measures in place for food provision and the supply of medicines were recently explored by Dr Sylvester Kimaiyo, programme director at the Moi Teaching and Referral Hospital (MTRH) in Eldoret, for the Academic Model Providing Access to Healthcare (AMPATH)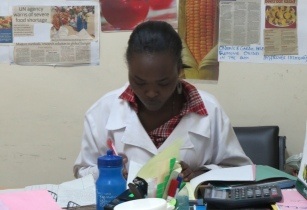 In Eldoret, 19 districts and 150,000 patients have been treated with anti-retroviral drugs (ARVs).
The impact of HIV/AIDS may be addressed through a holistic approach to nutrition.
In and around Eldoret, in Western Kenya, there is both medical support and support for food security. Both health delivery and food provision are supported by partnership between health professionals and representatives of non-governmental organisations such as the World Food Programme (WFP).
With respect to nutrition, the Purchase for Progress (P4P) programme in operation in and around Eldoret, supports provision of food at community level, to ameliorate the conditions of those living in poverty.
The MTRH is a university-led initiative that counts amongst its key training centres the Moi University School of Medicine at MTRH, which counts amongst its academic partners several North American universities and which gains funding from Finland, from USAID, from the Bill and Melinda Gates Foundation, from the University of Indiana, and many other donors since treatment regimes were established in Eldoret in 2001. Now, from Eldoret, 19 districts and 150,000 patients are treated with anti-retroviral drugs (ARVs).
Dr Kimaiyo laments the occurrence of "food insecurity in a land of plenty" in Kenya. Integration with nutrition regimes came via an interesting phenomenon. Patients were asked to take ARVs after meals. Patients were not, however, taking ARVs. When queried, staff at Eldoret realised that the patients had no food, and so felt there was no logical reason to take medication as instructed.
The AMPATH model is based on holistic household nutrition
AMPATH recognised that WFP provided food to whole households, to be consumed by whole households and that this challenged an extant approach which focused on food security for individuals, based on assessments of individual nutritional requirements. AMPATH adapted the WFP approach - and so, now, household nutrition complements and extends from individual nutrition, with both household and individual assessments informing provision of food.
The emphasis, here, is on reconstructing livelihoods - so, for example, where food may be offered for free under P4P at first, over the course of up to 12 months households will be brought back into a condition go self-sustainability, and hence self respect and a renewal of identity as a valued community member.
A technological key to practice is the use of MRS, an open source method of capturing data developed by AMPATH with the University of Indiana and Harvard. Collaboration in terms of connectivity is with Safaricom. Initially, Palm Pilots were used; now, the work is done with Android mobile phones.
From purpose to practice, from purchase to progress
Away from Eldoret, at the end of a series of rural roads, villagers offered the best examples of the delivery of food security and of healthcare through P4P, at Kaptebee, where maize and cows are principally cultivated and nurtured.
The mission amongst villagers, and stated as such, is to make farming a business for the benefit of the community of villages of which Kaptebee is a part. A group was formed in 2003 for this purpose, to develop agribusiness at Kaptebee and across the village communities in its environs to harmonise practices, to maximise revenues, and to save for sustainability.
Accounts have been opened with Equity Bank, for saving and spending. In addition to support within the P4P framework, there is training provided by the Kenyan Ministry of Agriculture, on a wide range of activities including farm operation, accounting, and marketing. For instance, through understanding of the pricing and operation at the Kenyan Agricultural Commodities Exchange (KACE).
These villagers may be remote, and there may be difficulties in linkage across variable road surfaces - but prospects are good, and growth is strong. There has been success, with tenders and contracts and product delivery on an annual basis. Success has translated into schooling for local children, and for improved access to healthcare and communications services.
Amongst its next steps will be the purchase of a new tractor, a computer, and a new office. Planned, also, and intangibles such as training in information technology and the acquisition of crop insurance cover.
The group has already acquired and is utilising greenhouses, warehousing and other facilities. There are, also, serious and ongoing efforts towards road maintenance and road holding, to improve access to markets, to improve business prospects - through funding from such schemes as the Government of Kenya's Constituency Development Fund (CDF), which facilitates infrastructure expenditure from central administration to any part of the country.