The President of the International Fund for Agricultural Development (IFAD), Kanayo Nwanze, has called for smallholder farmers from across Africa to be placed at the centre of sector exchanges in order to fuel economic growth across the continent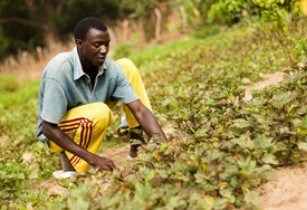 IFAD President Kanayo Nwanze has said that farmers in African should have access to market information, crop storage and transport. (Image source: IFAD/Olivier Asselin)
Nwanze described investment in smallholder agriculture and rural development as "the foundation for economic growth" and said that smallholder agriculture needed to be taken seriously as a business in Africa.
"When small farmers in developing countries double and triple their yields, it is only the first step on the road to food security and economic development," he remarked.
"If we can ensure that food gets efficiently, safely from the farmer's field to the market, and with extra money in the farmer's pockets, it is only then we can start to see true economic growth and transformation for Africa."
Agriculture, which accounts for close to 30 per cent of sub-Saharan Africa's GDP, accounts for more than 60 per cent of employment across the continent.
"In order to create a transformation in African agriculture we need to put smallholder farmers at the centre of sector exchanges by seamlessly connecting them to each other as well as local and regional markets," Nwanze said.
"[African farmers] need access to market information, crop storage and transport. National and regional policies need to eliminate cross-border delays and regulatory stonewalls faced by small farmers to make it easy for them to get their produce from one country to the next," he added.