Tanzania's minister of agriculture, food security and cooperatives, Christopher Chiza, has said that cassava will play a major role in improving the lives of farmers in the country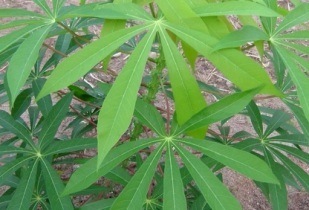 Cassava. (Image source: Iwata Kenichi.)
As the crop is widely grown across Tanzania and potentially very lucrative, Chiza said that the government will assist small holder farmers in developing their cassava crops and maximising their potential.
Chiza did highlight, however, that cassava still suffers from being widely perceived as a fall-back crop during famine while the prevalence of cassava mosaic and cassava brown streak diseases hamper its production.
"Although a lot of cassava is being grown in different parts of the country and some even exported to neighbouring countries, a good volume of the crop is still wasted and rotting in many farmers' fields," Chiza was quoted as saying by East African Business Week.
He urged a delegation from the International Institute of Tropical Agriculture (IITA) to continue its research efforts that enable Tanzania's farmers to optimise their production and use of cassava, and assured the IITA of his ministry's full support.
Chiza said that the results of research on processing and marketing cassava needed to be widely disseminated amongst the country's farmers.
He added that farmers also need access to varieties of the crop that can withstand the two main diseases.
Dr Victor Manyong, IITA director for Eastern Africa and leader of the delegation, said that Tanzania is one of the institute's priority countries and the institute is investing resources to boost its research and development capabilities and activities in the country.
Manyong emphasised that it is due to the support received from the government that the IITA decided to establish its Eastern Africa Hub in Dar es Salaam, Tanzania.