Members of the Gambia Women Farmers Association (GAWFA) were given a loan of US$57,000 to increase their working capacity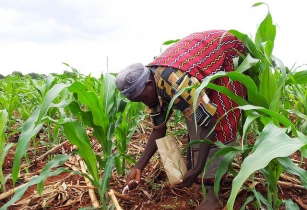 The funds are expected to empower lady farmers to purchase higher quality seeds, fertilisers and agricultural equipment. (Image source: International Maize and Wheat Improvement Centre)
The GAWFA along with the New Partnership for African Development (NEPAD) distributed the loan to female farmers belonging to the North Bank and Central River Regions, according to reports. The support is part of a larger package amounting to US$150,000 that NEPAD is providing to GAWFA for its members across Gambia, in a bid to empower women through micro-finance.
This disbursement is expected to help women buy seeds, fertilisers as well as pay for the ploughing of their fields during the rainy season.
"The support is meant to enhance the capacity of rural farmers and enable them meet their agricultural production needs," said Kaddy Sanyang-Fofana, operations manager of GAWFA. Sanyang-Fofana also advised the beneficiaries to use the money for its intended purpose.
Sankung Jaiteh, network manager of GAWFA, added that the loan facility will allow female farmers easier access to farm inputs. Jaiteh urged the beneficiaries to make use of the money and to repay it so that it can also benefit others.