The pineapple farmers in Ghana are required to have professional training in order to achieve higher yields through more sustainable agriculture, according to a team from the Technical University of Munich (TUM) and the Kiel Institute for the World Economy (ifW)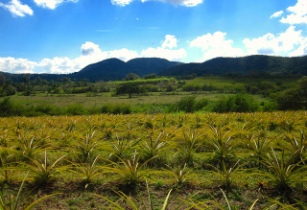 Ghana aims to increase its pineapple production. (Image source: Hailey Toft/Flickr)
For two months, Dr David Wüpper, agricultural economist from the Chair Group Agricultural Production and Resource Economics at TUM, worked with around 400 Ghanaian pineapple farmers in the Ghanaian metropolis of Kumasi. He, along with Dr Linda Kleemann, from the ifW, examined the learning effects of training and imitation with the support of several other interviewers and translators.
The yields of the pineapple fields in Ghana, most of which are smaller than two ha, were only intended for subsistence farming. In the 1990s, the pineapple production increased along with exports, initially to the European Union.
After that, MD-2, a new variety of pineapple came from an American company that was bred for Costa Rica's monoculture farming. According to Wüpper, the MD-2 was a real setback for Ghana.
"This is because this variety has high pest control, fertilisation and irrigation requirements. In these areas, the Ghanaian small-scale farmers are clearly at a disadvantage when compared to the more industrialised agriculture in Costa Rica," he added.
The UN, the World Bank and the researchers look forward to help the pineapple farmers in Ghana to achieve economically successful harvests, despite the widely scattered fields and inefficient extensive agriculture.
Their goal is to establish sustainable agriculture, as well as to reduce irreversible damage to the soil, increase soil fertility and boost income. Many stakeholders, governmental organisations, NGOs and private companies are looking forward to helping farmers and small enterprises with training.
Wüpper said that the training sessions focus on allowing farmers to directly see the effects of various practices in the growth of the plants, thus giving them insights and deeper knowledge about the factos related to pineapple production in the West African country.