Ghana's cocoa production sector has received a boost in the current crop season with a substantial price hike for farmers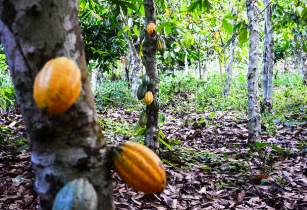 Ghana-Cocoa-AfricaCocoa farmers in Ghana will recieve support to invest in new equipment to boost crop yields. (Image source: jbdodane/Flickr)
In October, the state-owned marketing agency and watchdog, Ghana Cocoa Board (Cocobod), raised the 2014-15 farmgate price by 62.74 per cent to US$1,760 per tonne, 5.3 per cent higher than the producer price in Côte d'Ivoire.
Cocobod hopes the price increase will reduce incentives for smuggling to Cote d'Ivoire, boost production and also help cocoa farmers make long-delayed investments in new equipment to increase crop yields.
Despite having built a sound reputation over the past decade, Ghana's cocoa sector is facing challenges. The most serious has been the depreciation of the cedi, which lost 41 per cent of its value between January and October last year. Ghana's budget deficit, the result of heavy spending on public sector salaries, coupled with high inflation — which averaged 15 per cent in June — caused the cedi to slide against the US dollar. This eroded farmers' real incomes — which are linked to the fixed price — and drove a surge in bean smuggling to Côte d'Ivoire in search of better prices.
Before the price hike, the Ivorian fixed price of CFA750/kg was 58 per cent higher in dollar terms than Ghana's fixed price of 3,392 cedis/kg. Another factor was the delay in Cocobod advancing funds to the field at the start of the season. Given that most licensed buying companies (LBCs) work under tight financing constraints, this forced them to periodically suspend purchases, in turn forcing cash-strapped farmers to sell their beans over the border.
The industry estimates that at least 60,000 tonnes of beans have been smuggled to Côte d'Ivoire so far in 2014, with some estimates ranging as high as 100,000 tonnes.
In response, Cocobod has stepped up its efforts to recruit local communities in the border area to help identify smugglers and intercept smuggling routes.
Cocoa is one of the key crops in Ghana, accounting for more than 20 per cent of total export earnings and 57 per cent of agricultural exports. However, declining world prices in the past three years has squeezed producers and hurt export earnings, impacting adversely on the country's fiscal and current account deficits. An improving global market since October, and an anticipated stronger demand for Ghana's beans, led Cocobod to announce the price increase.
Ghana's production has almost doubled over the past decade, rising from 340,000 tonnes in 2001-02 to 632,000 tonnes in 2009-10, owing to the improved provision of inputs, new plantings and better husbandry. Since then, production has fluctuated.
Output subsequently returned to more characteristic levels, falling to 878,500 tonnes in 2011-12 and 835,400 tonnes in 2012-13. Ideal growing weather during the 2013-14 season raised expectations of a strong crop in 2013-14, after main crop purchases reached 879,000 tonnes by the end of June.
The outlook for Ghana's 2014-15 crop is uncertain, owing to macroeconomic instability.
With inflation remaining high and the cedi's recent strength unlikely to last, it is unclear how long Ghanaian farmgate prices will retain a premium over Ivorian prices. "Given Cocobod's financial constraints, the distribution of free fertilisers and insecticides will be constrained this season, but we do not expect this to have a significant impact on yields as, in the past, much of the fertiliser did not reach the intended farmers," regional commercial bank Ecobank said in a research note.
The impact of the depreciating cedi, however, has not been entirely negative. This is because the annual financing Cocobod raises is denominated in US dollars, as are the supply contracts with traders and exporters, which has insulated Cocobod from currency volatility. In addition, Cocobod advances all of its funds for field purchases in cedis. Given the depreciation of the cedi and the fixing of the farmgate price, this has meant that Cocobod has saved substantial dollar funds over the course of the season, by some estimates as high as US$700mn. Cocobod may choose to return some of this surplus to farmers as an end-of-season bonus, as has occurred in previous seasons, but its ability to use these funds will be constrained.
The financial troubles of the LBCs are another constraint, as relatively low-cost financing in Cocobod's seed fund is stretched thin and commercial lending is expensive. This has delayed payments to farmers, who are facing their own liquidity problems.
However, Cocobod's recent securing of US$1.7bn of financing for purchases in 2014-15 was a testament of investor confidence, and it should help boost sales. "Given the sharp improvement in the farmgate price — which has reduced the incentives for smuggling — we expect Ghana's output to grow modestly in 2014-15, to 950,000 tonnes, 5.8 per cent higher than last season and just short of Cocobod's one million tonnes target," said Ecobank.
Jonathan Offei-Ansah