Andre Laperrière, executive director of GODAN, has underlined the importance of transparency and data sharing at the African Commission on Agricultural Statistics (AFCAS), Gabon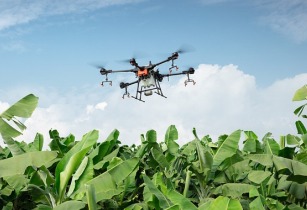 GODAN aims to make information about agriculture and nutrition available, accessible and usable to deal with the urgent challenge of ensuring world food security. (Image source: DJI-Agras/Pixabay)
Global Open Data for Agriculture and Nutrition (GODAN) is a UK, USA, United Nations and Food and Agriculture Organisation (FAO) supported an initiative that promotes the proactive sharing of open data to make information about agriculture and nutrition available, accessible and usable to deal with the urgent challenge of ensuring world food security.
The AFCAS, hosting its twenty-sixth session, is a statutory body of the Food and Agricultural Organisation of the United States (FAO) and meets every two years. Its aim is to review the state of food and agricultural statistics in the African Region and advise Member Nations on the development and standardisation of agricultural statistics within the general framework of FAO's work, and to convene study groups or other Subsidiary Bodies of national experts required for this purpose.
The agenda for this year's session gives an opportunity for key figureheads within the sector to discuss and share experiences, which will enable the drafting of relevant recommendations for better statistical monitoring of SDG indicators and the improvement of agricultural statistics in Africa.
Laperrière emphasised the opportunities and challenges facing data sharing in Africa and the importance of using open data as a tool to drive the end of issues such as hunger, malnutrition and achieving food sustainability.
Speaking at the AFCAS, Andre Laperrière, the Executive Director of GODAN said: "The work of AFCAS is instrumental in helping influence the efforts into developing food and agricultural statistics in countries across the African region. There is no doubt that statistics can help countries generate databases that can provide the framework for producing reliable and valid data to help understand and achieve food security.
GODAN seeks to support global efforts to make agricultural and nutrition-relevant data available, accessible, and easy to use on a global scale, by building high-level policy, public and private institutional support for open data. GODAN is a pioneer in open data advocacy, through its own policy advisory and capacity development work, but also through its network of around one thousand members, committed to the joint aim of advocating for open data principles.
Increased data accessibility and access to smart technologies empower farmers and companies - both large and small - throughout the worldwide food production chain to better plan and sustainably execute food production and farming processes, contributing to tackling global issues such as world hunger and environmental sustainability.