Zimbabwe's Grain Marketing Board (GMB) has arranged for 17 rubber stacker machines to be used in the loading and offloading of grain at different depots across the country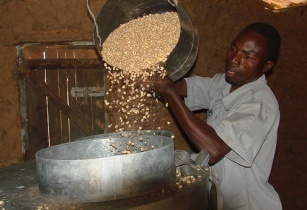 The 17 stacker machines to be deployed in Zimbabwe are set cost US$300,000. (Image source: CIMMYT)
In a speech read by Professor Isheunesu Mupepereki, GMB board chairman Charles Chikaura said that the board has put strategies in place to combat food shortages in the country.
"The board continues to implement strategies meant to improve service delivery to customers in fulfilment of its mandate to ensure food security," said Chikaura.
GMB is currently seeking ways of paying the US$1.7mn it owes to farmers across Zimbabwe.
"The GMB owes US$1.7mn to farmers for their 2012 grain deliveries. We are making efforts to ensure that the farmer obligations are duly cleared," added Chikaura.
According to Albert Mandizha said the 17 stacker machines cost US$300,000 and would be allocated to 17 depots.
"The following depots will receive the equipment: Wedza, Doma, Mamina, Mhondoro, Mudzimu,Vuti, Beitbridge, Filabusi, Lusulu, Lupane, Chivi, Gokwe, Nembudziya, Chendambuya, Dewedzo, Mutare Grain and Timber Mills," Mandizha added.