A new report released by ONE Campaign revealed that a number of African nations are increasing their spending on agriculture to eradicate extreme poverty and hunger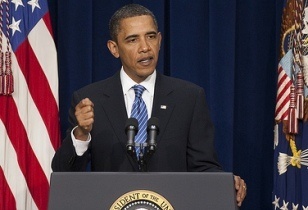 (Image source: nasa hq photo)
The study, which was carried out by the anti-poverty group set-up by Irish musicians Bono and Bob Geldof, stated that Africa's agricultural sector could be worth one trillion dollars by 2030.
"Despite record improvements by select African countries, Africa overall is still far from realising its agricultural potential," read the report, which identified progress by 19 African countries and donors that send them aid.
"For African governments, donors and the private sector alike, 2013 is the year to deliver on these building blocks that impact farming and expand economic opportunities for farmers."
President Barack Obama will welcome African leaders at the White House on the 28 March to discuss their capabilities in a continent where strong economics policies are drawing an increased number of investors.
ONE stated in the report that at least four of the 19 African countries assessed, Ethiopia, Cape Verde, Malawi and Niger reached a goal that was set of 10 per cent total expenditure on agriculture.