Homie Recipes, Inc, has announced that it has entered into a Joint Venture Agreement with the West African Stevia Company and KOP Farms located in Ghana, West Africa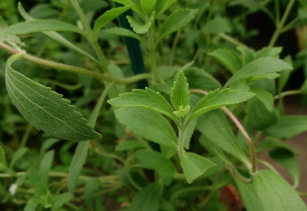 Stevia rebaudiana. (Image source: Mokkie/Commons)
Terms of the Joint Venture Agreement call for the parties to immediately plant and cultivate 50 hectares (approx. 120 acres) of stevia, increasing in stages up to 2,500 hectares (approx. 6,200 acres) planted. In addition to planting and cultivating stevia on its own lands, the partners intend to develop an "outgrowers" program across Ghana to expand production of stevia with third party farmers on a contract basis. The third party grown stevia would then be processed, marketed, and sold by the partnership.
Mr. Theodoros Kerasidis, President of Homie Recipes, "Ghana is considered one of the most stable and business friendly countries in all of Africa. Certain areas of Ghana, like the valleys of northern Greece, have great climate and soil conditions for growing the highest quality stevia. But Ghana also has a huge advantage with a year-round growing season which will allow for up to four stevia crop harvests per year, as opposed to only two annual harvests in Europe. This combined with cost effective labour, strong government support, and excellent global transport logistics via ocean, make Ghana an ideal location for us to expand our business."
Stevia, derived from the Stevia rebaudiana plant, is a low-carbohydrate food and beverage sweetener and sugar substitute, which is up to 300 times sweeter than sugar. According to WHO estimates, stevia has the potential to replace 20-30 per cent of all dietary sweeteners (estimated at US$10bn in 2017).
Mr. Kerasidis concluded, "Partnerships like this one with local operators enable the Company to rapidly expand into new regions and potentially build a much more diversified business infrastructure. These partnerships also provide local farmers with increased income potential through strong training programs and greater access to credit and international markets. This is a definite win-win strategy that we feel can be replicated around the world and with many different high demand high-value crops, not just stevia."