A research report released 3 August tells the story of small farmers in Mozambique who are adversely impacted by large-scale, foreign agricultural investments - and the alternative, ecumenical vision of life-giving agriculture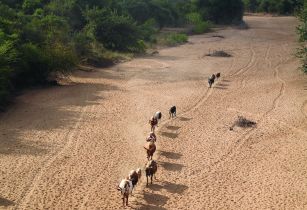 Cattle herd walks home along dry river bed in Tete Province, Mozambique. (Image source: ILRI/Steve Mann/Commons)
The "Financialisation of Food Research Report," sponsored by the World Council of Churches (WCC) and Bread for all, was released at an event in Maputo, Mozambique organised by the Economic Justice Network of the Fellowship of Christian Councils in Southern Africa, Council of Churches in Mozambique and WCC.
Those gathered - including small-scale farmers, community leaders, members of the media, government representatives and faith-based organisations - hoped to create an environment in which ideas on how to respond to practices of financialisation of food and land-grabs in Mozambique could be shared.
Farmers were able to explain, through personal stories, how they are affected by the Pro-Savana Project, a programme to increase crop output by bringing in large-scale agribusinesses that are displacing traditional farming populations.
Community members from Manhiça in southern Mozambique informed those gathered that they have no title deeds to confirm ownership of their land. Many have been staying on the land for most of their lives for generations, and now they are consistently denied their livelihoods and right to farm.
A woman farmer who is in her 60s was jailed and kicked by the police for expressing anger on being denied ownership of her land. Sadly, farmers who have been occupying and cultivating the land are not consulted or informed about new ownership arrangements.
Many farmers expressed sadness in how their government is treating them when it comes to land ownership in Mozambique. Another woman farmer lamented that the government is turning against them in favour of investors who are grabbing land. Interests of foreign investors that come to Mozambique under a pretext of promoting foreign direct investments on the land trump those of local people.