The International Fund for Agricultural Development (IFAD) Adaptation for Smallholder Agriculture Programme (ASAP) has won a 2013 Momentum for Change Lighthouse Activities award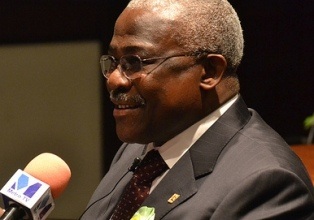 Kanayo Nwanze, president of IFAD. (Image source: Climate Change, Agriculture and Food Security/Flickr)
According to IFAD, the award recognises ASAP's work in using climate finance to support climate change adaptation activities that deliver social and economic benefits to smallholder farmers.
Kanayo Nwanze, president of IFAD, said, "We welcome the recognition this award brings IFAD and the donors supporting ASAP. But far more important is the opportunity it creates for us to help raise the profile of smallholder farmers around the issue of climate change."
Through its Momentum for Change initiative, the United Nations Climate Change Secretariat provides a public platform to highlight broad-ranging climate change actions that are already achieving impacts on the ground, in addressing both climate change and wider economic, social and environmental issues, IFAD said.
ASAP was launched just over a year ago and will work in more than 30 developing countries to use climate finance to help make rural development programmes more climate-resilient, the organisation said.
These investments will be aimed at a variety of areas including small-scale water-harvesting, providing farmers with improved seeds that are drought-tolerant and helping them access markets, it added.
The funding will also support tree planting on farms and help farmers access weather forecasts so they know when best to plant and harvest crops, IFAD said
ASAP is a multi-donor programme funded by the UK, the Netherlands, Canada, Belgium and Sweden.
Lynne Featherstone, international development minister for the UK, said, "Along with all the donors supporting this programme we congratulate the IFAD team for this award. By investing in improved practices and technologies, ASAP is helping millions of smallholder farmers across the world to cope with the impacts of climate change.
"This vital work is not only building resilience, it is also safeguarding farmers' jobs and livelihoods, especially those of women, and helping them to lift themselves out of poverty. We look forward to other donors joining us and investing in this programme so it can benefit many more smallholder farmers," she added.