JOSKIN, an agricultural machinery manufacturer, started its traditional JOSKIN open days with a purpose to introduce its wide range of machines and behind-the-scene of production to the general public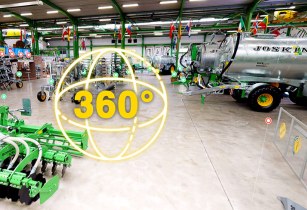 JOSKIN started its JOSKIN Pro Days fully virtual showroom of over 14,000 sqm on its site. ( Image source: JOSKIN)
This year, the event offers a 100% digital experience to its audience due to health restrictions.
Due to the growing popularity for 20 years to its audience, the JOSKIN Pro Days are converted into the event now. This year, the JOSKIN Pro Days have registered a record number audience. It is because the company offered a 100% virtual showroom and an interactive tour with the behind-the-scenes of JOSKIN's factories. Lots of tools are added to the brand's website for this occasion and the brand's website is completely reviewed.
There is no time or travel restriction to attend the event for this year and this year's event receives a record number of audience without the slightest health risk. JOSKIN decided to keep the tools for online event for transparency to its audience. JOSKIN has always opened the doors of its showrooms to the general audience. It also organised guided tours of its various production sites throughout the year.
To keep its audience knowledgeable about its wide range of product, the Joskin.com site propounds a fully virtual showroom of over 14,000 sqm to its audience that provides the scope to analyse its machines as if it was the live tour.
The «factory tour», is a new section added by the JOSKIN website to perceive visitors the quality of the machine. It is the section where the audience can see the manufacturing process of a JOSKIN machine from various production sites of the company. The section will take the visitors from Belgium to Poland via France through an immersive video report to make them understand each stage of the production cycle of a machine without travelling. Joskin.com offers another tool to its visitors like the special offer of the month! This section deals with exclusive special offers of the JOSKIN 2021 calendar.
The catalogue of outlet/second-hand machines, the e-shop, or the media library is now available on the JOSKIN website. JOSKIN is demonstrating the capability to be in tune with the need of the agricultural world even with the restrictions of social distancing.