With an aim to teach agricultural skills to young adults, Kia Motors has opened a new 'Green Light Project' (GLP) vocational training centre in Gahengeri Sector in Rwanda's Eastern Province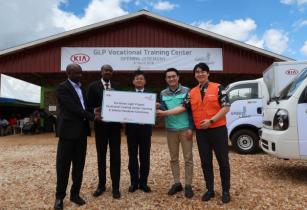 The project aims to teach agricultural skills to young adults, to develop sustainable farms and generate greater income from agriculture. (Image source: Kia)
By setting up the new GLP training facility, Kia aims to foster greater self-sufficiency throughout the region, helping local communities to generate sustainable income from agricultural sales.
Rwanda's local economy is heavily dependent on agriculture, with farmers making up 90 per cent of the Gahengeri Sector's working population. However, there are typically low levels of productivity due to the dense population and mountainous nature of the region. A lack of skills and machinery, as well as poor storage facilities and an inadequate infrastructure, also pose challenges.
Kia's GLP Vocational Training Centre focuses on providing an agricultural machinery rental service and incubation programme to local farmers, supporting new and existing farms with harvesting, sales and distribution.
"The aim of the Green Light Project is to improve social mobility and enable communities to become more self-sufficient," said Kyehwan Roh, head of CSR management team at Kia Motors.
"The new centre in Rwanda will help people across this region overcome a range of obstacles and challenges they face in developing a livelihood from agriculture," Kyehwan Roh added.
The Green Light Project
The Rwanda GLP vocational training centre comes in line with Kia's ongoing 'Green Light Project' global corporate social responsibility (CSR) programme. It aims to improve access to healthcare, education and employment for disadvantaged children and young adults in some of the most underdeveloped regions in the world.
The programme seeks to 'turn the red light to green' for individuals and communities, empowering them with the skills and opportunities they need to improve their lives.
With the establishment of each GLP facility, Kia's final goal is to hand over full control to a local community.