Lesotho and the International Fund for Agricultural Development (IFAD) have signed an agreement that will bring relief to the country's livestock producers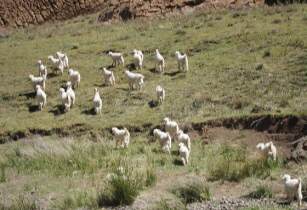 Goathrds and shepherds in Lesotho's hilly regions are to get financial support. (Image source: fabulousfabs/Flickr)
The agreement includes a US$5.8mn loan, another US$5.8mn IFAD debt sustainability framework grant and an additional US$7mn grant from IFAD's Adaptation for Smallholder Agriculture Programme. This money will go towards financing Lesotho's Wool and Mohair Promotion Project (WAMPP), giving a fillip to the animal rearing industry in the country.
Almost 70 per cent of Lesotho's population lives in rural areas, most of which lie in the high mountains where the main source of income is from raising sheep and goats to produce wool, high quality mohair and meat. But a recent decline in the quality and quantity of wool and mohair fibres, combined with the effects of climate change, have taken a toll on smallholder farmers in the mountain and foothill regions.
WAMPP aims to help smallholder livestock producers generate higher incomes and have more sustainable livelihoods. With a total cost of US$38.9mn, the project includes contributions of US$4mn from the government of Lesotho, US$1.5mn from the Lesotho National Wool and Mohair Growers Association and US$12mn from the OPEC Fund for International Development. Project participants will contribute their labour by helping to build some of the infrastructure. The project will be implemented by the ministry of agriculture and food security of Lesotho. It will help 50,000 rural households, particularly women and young people, to improve their economic activities and livelihoods.
Thomas Rath, IFAD's programme manager for Lesotho, said, "In alignment with IFAD's gender policy, WAMPP will boost job opportunities for the rural women living in the remote mountain areas of Lesotho and by enhancing their capacity in wool handling and the development of cottage industries for producing textiles and garments for tourism and similar niche markets."
Since 1980, IFAD has invested a total of a US$78.9mn in nine programmes and projects in Lesotho, which have generated a total investment of US$127.7mn and have benefited about 179,720 rural households.