New Hope Liuhe Company Limited (NHLCL), an agribusiness company from China, has expressed its desire to invest in the sector's development in Nigeria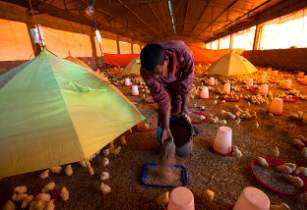 A Chinese firm is looking to invest in Nigeria's agribusiness sector. (Image source: USAID/Flickr)
Dang ZhiMin, vice president at NHLCL, led the company delegation to Nigerian Investment Promotion Commission (NIPC) at the Commission's headquarters in Abuja. ZhiMin made assurances to invest in various sectors like manufacturing, processing and selling of animal feed, raw material additives, dairy products and more. He said that the company's investment in its selected areas of interest would also help the local economy and provide employment.
The Chinese delegation was accompanied by a representative from the Bill and Melinda Gates Foundation. Zhao Xin, general manager of investment and development at NHLCL, said that the company, in collaboration with the foundation, is ready to invest in Nigeria. Describing the country as one of the biggest markets in the continent, he asked the government to support their plans.
The executive secretary of NIPC, Uju Hassan-Baba assured the potential investors of government assistance and an investment environment conducive to their investment, saying, "Those who are investing in the agricultural sector in Nigeria, especially a company like yours, is assured of abundant resources and huge fortunes."
Hassan-Baba said that encouragement, promotion and coordination of investments in Nigeria were part of the commission's mandate. She told the delegation members that Nigeria offered a ready-made market for products, with more than 170mn consumers in the country and also served as a gateway to other markets in West Africa.