A new mobile phone app in Kenya could help farmers by providing information on seeds best suited to the changing climate and growing conditions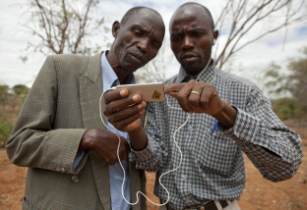 A new app provides climate-specific seed information to farmers in Kenya. (Image source: Gates Foundation/Flickr)
MbeguChoice, meaning seed choice in Swahili, is a free app developed jointly by the Kenya Agricultural and Livestock Research Organization, the Kenya Plant Health Inspectorate Service, seed companies and Agri Experience, with support from the Kenya Markets Trust.
Philip Leley, an advisor to the United Nations' Food and Agriculture Organization, provided the developers technical information and said that the app gives information on special characteristics (of different kinds of seeds) for drought tolerance, and the best altitude and area for growing a particular crop. For instance, if a farmer searches for drought-resistant corn varieties to plant during the rainy season, the app would show the five best kinds of seeds, depending on what area of the country the farmer is in and his altitude.
The database that powers the app has information on more than 200 crop varieties. More than half of Kenya's population of 44mn owns a mobile phone and the app's developers expect to have two million users in the next seven months. The developers want to expand the app in the future to keep farmers updated about market information on crop and fertiliser prices as well.
The online database is also available via a website and the project is backed by seed producers who hope it will help increase their business. Officials behind the project say that the project, if successful, could be expanded to other countries as well.
About 80 per cent of land in Kenya is dry, according to the United Nations' World Food Programme and agriculture employs more than 70 per cent of the country's population, making the country especially vulnerable to global warming. Therefore, the success of apps like MbeguChoice could help to dramatically improve living standards.