Macadamia nuts producer Valley of Macs is seeking to increase its production in the next three to four years in Mozambique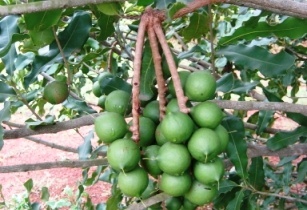 Valley of Macs currently produces 120 tonnes of macadamia nuts in Mozambique annually. (Image source: Ton Rulkens)
The company, who is controlled by Dutch, British, US and Mozambican capital, currently produces 120 tonnes of nuts a year in Serra Choa, in Mozambique's Barue district.
According to Valley of Macs manager, Antonio Gera, current annual production is an estimated 120 tonnes, however Gera aims to fill fifty containers a year by 2016/2017 to reach a production output of 1,000 tonnes.
An estimated US$6.5mn has been invested the production process out of a planned eight million, Valley of Macs said.
"Right now, we are doing everything we can to comply with our production plan," stated Gera.
The company expects its annual revenue to reach US$3.7 mn, when exports of the nut are sent to countries such as China, Hong Kong and Vietnam.
Valley of Macs started operations in Serra Choa back in 2006 and the company's plantation covers 600ha, of which 224ha has been used to grow a total of 70,000 plants, the company said.