Increased investment, value addition and the opening up of export markets has boosted coconut farming along Kenya's coastal region with huge returns for local farmers, writes Mwangi Mumero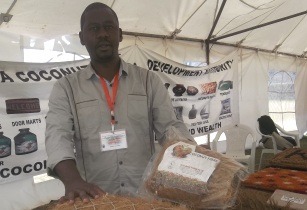 Teddy Yawa, business development officer for the Kenya Coconut Development Authority, shows off some of the value-added coconut products at a recent event in Nairobi. (Image source: Mwangi Mumero)
The fortunes of the previously chaotic and disorganised coconut sub-sector took a turn for the better in 2007 with the creation of the Kenya Coconut Development Authority (KCDA) – a government body mandated to boost investment and consumer awareness in this vital crop.
"In the last few years, investors in value addition have set up processing units along the coastal region from Malindi, Kwale and Kilifi. Investors attracted by increased awareness are targeting virgin oil, copra oil, soap production and textiles," observed KCDA business development officer Teddy Yawa during a recent exhibition at the Jomo Kenyatta University of Technology and Agriculture (JKUAT).
Industry officials have noted that Kenya has the potential to generate more than US$294mn from the coconut sub-sector with the widening of local and international markets. Huge export markets exist in Europe, the United States and the large East African Community (EAC), but even with this huge potential, just 200,000 hectares are under the crop in the country, with more than 99 per cent of the crop grown along the coast.
Away from the coast, coconuts have been doing well in Nyanza, western Kenya, and the eastern and Rift Valley region. Emerging coconut products such as virgin oil, coconut milk, desiccated coconut, and fibre are gaining prominence. For instance, virgin coconut oil is rich in medium chain fatty acids (MCFA) said to boost the immune system and has no cholesterol.
While there has been an increased demand for coconut products that are said to be low in cholesterol by health conscious consumer, coconut growing still relies on more than 7.4 million trees that are old and of the low-producing East Africa Tall variety.
The East Africa Tall takes five to seven years to produce its first fruits, but offers more avenues for income. The dwarf varieties take shorter periods to produce their first fruits, but are mainly used for the production of the local alcoholic brew Mnazi.
"We have been actively involved in seedling propagation programmes involving trained nursery operators. We have a target of 500,000 seedlings annually and, so far, more than two million seedlings have been given to farmers to replace old stock," asserted Yawa as he explained the KCDA's campaign to increase access to seedlings.
In the last rainy planting season, more than 81,000 coconut farmers along the coast showed renewed interest in the crop, with demand for seedlings shooting up to more than 100,000 seedlings. At the same time, the KCDA has been working with the Kenya Agricultural Research Institute (KARI) in mother palm identification for breeding new, better yielding varieties.
Equally, the authority has been working closely with the Kenya Forest Research Institute (KEFRI) on research in virgin coconut oil. An ongoing research in collaboration with the JKUAT in geo-textile shed nets would provide an insight into the use of coconut fibres in greenhouse technology. Research on development of locally fabricated coconut oil extraction machines has also been ongoing.
Better crop husbandry has boosted yield per crop from 15 to 30 fruits annually to more than 100. An acre of land could carry 50 trees that could often be intercropped with low crops such as maize, beans and bananas, thereby making better use of the land.
"We are aiming to reach 300 coconuts per tree," said Mwangi Hai, the manager in charge of the KCDA's extension services.
Seed propagators have been receiving free irrigation kits from the KCDA with more than 20 kits distributed. Extension services targeting coconut farmers in the area of crop husbandry has helped farmer with correct spacing, weeding and use of manure in boosting soil fertility.
Farmers have also been trained on pest control with rhinoceros beetles, coconut mites, coconut bug and termites considered the most harmful. Among the diseases, the bole rot and the lethal yellowing disease have been said to be the most destructive.
With an initial investment of US$30 per acre for seedlings, and about US$206 for compost manure and labour, coconut growing has few overheads, making it suitable for poorly-financed rural farmers. A seedlings costs between US$0.60 and US$1.20, with one fruit selling from US$0.06 to US$0.35 at farm gate.
Karisa Chai, a coconut farmer from Kaloleni, Kilifi Country, said, "Value addition through processing virgin coconut oil from the white fleshy kernel fetches US$6 a litre. Returns are better than just selling the fruits on farm gate." Other farmers have also been mixing coconut oils with ingredients such as aloe or neem to make soaps and cosmetics, with 100g of body lotion selling for more than US$2.40.
According to Yawa, most of the investors are at the cottage level – mainly in the processing of virgin oil, copra oil, coconut cream, coconut milk and in textile products. Approximately, 2,000 farmers have channelled their coconut produce through these processors, with the number expected to rise.
To increase awareness on the emerging coconut products, KCDA has been organising fielded days, documentaries, radio talks and road shows.
"Participation in local and international expos has also widened the net globally seeking for foreign investments and exporters. Already investors have set up a coconut milk processing plant in Mazeras and a desiccation unit at Kaloleni to tap into the new opportunities", noted Yawa.
The authority has also been linking investors with financial organisation to access affordable credit – specifically, Co-operative Bank of Kenya and Equity Bank have been working closely with the KCDA in this regard.
On the other hand, the Kenya Industrial Estates (KIE) has initiated a farm incubation programme through the establishment of cottages and the Malindi Coconut Centre for Excellence. According to KCDA, the centre will mainly concentrate on the development of fibre and products exclusively made from the coconuts outer casings. Husk fibre has been used in making rooting materials for the horticultural industry, while coconut fronds have been used to make roofing material and brooms.

Mwangi Mumero