The Food and Agriculture Organization of the United Nations (FAO) has launched two agricultural development projects in Torit in the South Sudanese state of Eastern Equatoria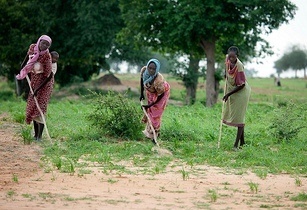 The initiative will focus on women and youth. (Image source: UNAMID/Flickr)
Run in collaboration with the Eastern Equatoria State Ministry of Agriculture and Animal Resources, the food security information system and agriculture commercialisation projects were launched by the state's deputy governor Jerome Gama Surur.
Surur called on the FAO to continue helping Eastern Equatoria's farmers by building a seed testing laboratory and facilities for breeding livestock.
Surur said livestock reproduction was essential for food security in the state and urged the organisation to provide more guidance to the community in order to protect the environmental resources in the region.
Sue Lautze, the UN's food and agricultural representative to South Sudan, said the project, which is funded by the Italian government, aims to improve food security through the commercialisation of agricultural sector in marginalised areas either side of the border between South Sudan and Kenya.
Eastern Equatoria's minister of agriculture, forestry, irrigation, co-operatives and rural development, John Ochan Bongomin, hailed the Italian government for supporting the initiative, which will focus on women and youth.
Ochan added that, by promoting livelihood diversification in rural households through the development of small- and medium-scale enterprises, the project will contribute immensely to food security.
When levels of production are increased and access to markets is made possible livelihoods become more stable, he said.