Gambia's minister of youth and sports, Alieu Jammeh, continued his recent tour of the country sector by paying a visit to a 2.5ha sesame and a 1.3-ha groundnut farms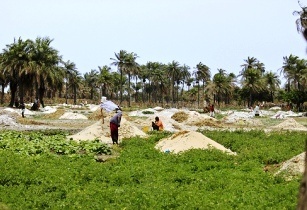 The minister has donated US$13,000 to farmers in Gambia. (Image source: Ozgi1)
Jammeh, alongside the deputy governor of West Coast Region (WCR) has been touring the country, by the Karantaba Youth Development Association in Jokadu and the Kerewan Red Cross link in the North Bank region of Gambia.
The minister, who made a donatation of US$13,000 to local farmers, advised youths in Gambia to desist from embarking on the 'back way' to Europe, warning about its catastrophic consequences.
"The Ministry of Youth and Sports is very much concerned about the welfare of the youths. The president is very much aware of the youths of the country," minister Jammeh stated.
"A good chunk of the youth population is in the regions and so we cannot afford to sit in the Greater Banjul without coming," Jammeh added.
The minister said this to youths on a visit to the farm at the start of the rainy season where he assessed the level of the performance of the farms.