Malawian small holder farmers took part in an agriculture field day organised by the Ntcheu District Agriculture Development Office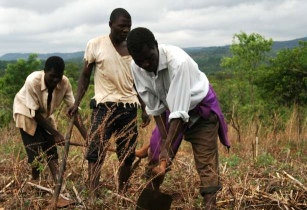 Malawian farmers were introduced to new farming technologies on an agricultural tour. (Image source: Find Your Feet)
Ntcheu District Agriculture Development Office organised an agriculture field day where farmers visited a number of agricultural demonstration sites in various villages in the area of Traditional Authority Njolomole in Ntcheu.
According to Ntcheu district agriculture development officer, Annily Msukwa, the tour was carried out so that farmers were better informed about modern farming technologies used to improve crop production.
"We visited several demonstration sites which were staged by the farmers themselves and other farmers were able to learn some lessons from these demonstration sites," said Msukwa.
"During the tour we were pleased to note that our farmers are able to adopt the recommended farming technologies such as conservation agriculture, irrigation agriculture and manure application among others," added Msukwa.
"We can also attribute this increased maize production to interventions such as the Farm Input Loan Programme and Farm Input Subsidy Programme among others."