Farming inputs supplier, Mea, is constructing a US$16mn fertiliser plant in Nakuru, Kenya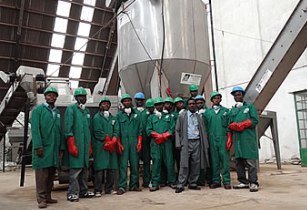 Mea is set to construct a fertiliser plant in Kenya to help farmers increase their yields. (Image source: Mea Fertiliser)
The company stated that the plant will supply NPK fertiliser to help farmers increase the rate of fertiliser production.
It is expected that the cost of the product will be sold at 20 per cent lower than standard prices in Kenya due to cheaper raw materials being imported from abroad, Mea revealed.
"We expect the plant to be up and running by the end of 2014," said Mea executive director, Titus Gitau, while speaking at a recent press conference.
According to Gitau, Mea will soon sign a MoU to build a nitrate plant with CNCEC after the completition of the NPK granulation 2014.
CNCEC general manager for international markets, Li GenXing, and commercial manager, Zhang Zhgengyang, were in talks about working together on the design and building of the plant.
"Having started off with a fertiliser blending plant, the discussions with CNCEC represent a logical progression of Mea's ambitious growth plans given that we are set to break ground later this year for our NPK granulation plant," said Gitau.