New Holland Agriculture has set the Guinness World Record for the most amount of wheat harvested in the UK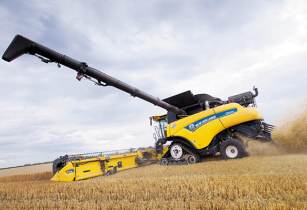 The harvesting activities were overseen and verified by Mr Pravin Patel, record adjudicator of Guinness World Records. (Image source: New Holland Agriculture)
The record was set in August 2014 at HR Bourn and Sons' farm with CR 10.90 Elevation Combine harvester, which harvested 797.656 tonnes of wheat in eight hours. The field was sown with Santiago wheat in the autumn of 2013, the company said in a statement.
Hedley Cooper, head of harvesting product management at New Holland Agriculture, said, "We are extremely proud to have captured the Guinness World Records title for harvesting almost 800 tonnes of wheat in eight hours, shattering the previous record by more than 120 tonnes."
On the day the record was set, the harvester's average output was 99.7 tonnes per hour. The record was achieved using 1.12 litres of fuel per tonne of grain harvested.
"This record demonstrates the unsurpassed capacity and productivity of the CR10.90 Elevation Combine, especially as the current record of 675.84 tonnes was broken after just six hours and 36 minutes," added Cooper.