Nigeria has unveiled National Cotton, Textile and Garment (CTG) Policy and plans to increase the country's raw cotton production from 200,000 tonnes in 2003 to 500,000 tonnes by the end of 2015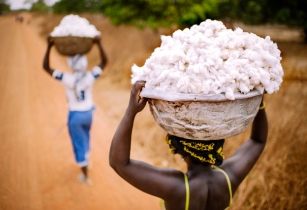 In 2010, the Nigerian government invested US$524.93mn to revive the country's cotton industry. (Image source: CIFOR/Flickr)
Olusegun Aganga, minister of industry and trade of Nigeria, said that the new policy will boost the development and growth of the country's cotton industry and is expected to set a target of achieving US$3bn annually from cotton exports.
According to Aganga, the CTG policy will improve the quality, quantity, production capacity, marketing and competitiveness of the players across the entire value chain and would also control the influx of sub-standard textiles and apparel into Nigeria.
"This is the first time in the history of the country that we have a comprehensive policy that cuts across the entire value chain – from farm to fashion. Also, the policy addresses the major problems militating against other sectors like power, smuggling and counterfeiting," added the minister.
Aganga revealed that the CTG policy will also address the issue of skill development.
"We must turn our quantity to quality. The policy will also address the issue of affordable finance, electricity, standards and local patronage," he added.
The minister noted that the new policy is expected to increase the contribution of the CTG sector to Nigeria's GDP by raising the number of people employed in the sector from 24,000 in 2014 to 100,000 by 2017.