Nigeria's Ministry of Agriculture and the Bank of Agriculture (BOA) has entered into a US$22mn deal to deploy 400 tractors to farmers across the country as part of an attempt to improve agricultural productivity and production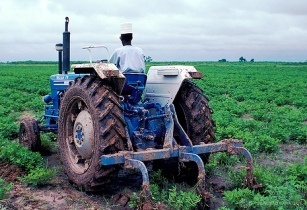 Nigeria has signed a US$22mn contract to supply 400 tractors for farmers in the country. (Image source: World Bank Photo Collection)
A Memorandum of Understanding (MoU) was signed by the country's agriculture minister, Akinwumi Adeshina, and the managing director of BOA, Dr Mohammed Santuraki, creating the basis for Agricultural Equipment Hiring Enterprises' acquisition of tractors.
At the signing of the deal, which was held in Abuja, Adeshina said, "The MoU will form the basis for establishing Agricultural Equipment Hiring Enterprises to be equipped with 400 units of tractors that all help to put up an additional 152,000ha of land under cultivation, expected to add 760,000 tonnes of food to our national output per annum.
"The financing will be done through public private Partnership (PPP) as BOA has undertaken to finance the interested service provider operators."
Adeshina added that a directive from President Goodluck Jonathan that the bank be recapitalised to the amount of US$95mn would help "refocus the institution on its core mandate of agriculture and rural financing".