Mars and Nestlé have promised to work towards eradicating inequality, hunger and poverty faced by women in their cocoa supply chains across Africa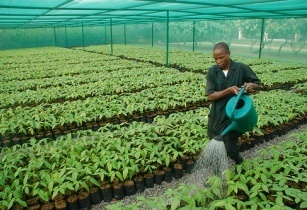 Female cocoa farmers in Cote d'Ivoire will be under assessment to ensure fairer working conditions. (Image source: Nestlé)
The move came after more than 65,000 people signed petitions by farmers and consumers who have taken action against chocolate companies in the interest of women cocoa farmers.
"Women cocoa farmers and consumers around the globe have made their voices heard," said Alison Woodhead, campaign manager for Oxfam's Behind the Brands campaign.
"Mars and Nestlé have taken important steps to show the farmers they rely on, their customers and the rest of the food industry that they care about the conditions women face in their supply chains including low pay, discrimination and unequal opportunity."
Both companies will be carrying out impact assessments on women in their cocoa supply chains, starting in Cote d'Ivoire, which is expected to be the highest cocoa producing country up until next year.
"We applaud Mars and Nestle's leadership in making these commitments," stated Woodhead. "But only actions can create real and lasting change. We will continue to hold both companies to account and expect them to keep their promises."