Liberian farmers have been urged to carry out farming as a business venture to help improve food security within the country and increase the chances of success for the government's Poverty Reduction Strategy (PRS)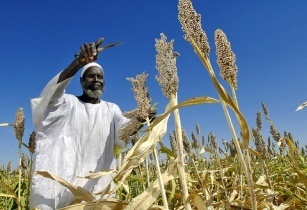 Wienco Liberia Limited country director has urged the Liberian government to create an environment so farmers get their produce to market on time. (Image source: Africa Renewal)
Samuel Oduro Asare, country director of Wienco Liberia Limited, stated that operating in this manner would fulfil the goals of the government Poverty Reduction Strategy (PRS).
Asara also called on the government of Liberia to create the right environment such as farm-to-market roads to enable farmers to get their produce to market on time.
James Mayfield Copson, the national chairman of pro-democracy civil organisation the Society for the Promotion of Peace, National Reconciliation and Reunification, praised Wienco Liberia Limited country director and the company's management and staff for providing support to Liberian farmers at a ceremony in honour of the company.
Wienco Liberia Limited offers services for the importation and distribution of high quality agro-inputs with an aim to improve productivity of smallholders in Liberia, it said.