Agroeconomists have advised Rwandan farmers to work towards ensuring sustainable food production in Rwanda through mechanisation and the use of innovative technologies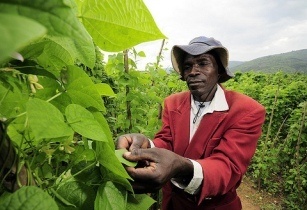 Experts have said Rwandan farmers can improve crop production by adopting innovative technologies. (Image source: CIAT International Centre for Tropical Agriculture)
According to agricultural experts in the country, irrigation-based agriculture can help improve production, alongside the use of fertilisers and planting of disease and drought resistant crops.
"If we intervene in a big way, it will help increase production, create employment opportunities and boost the export sector and grow the economy," said Narcisse Ndagijimana, the private sector federation's chamber of agriculture director general.
David Mills, director of Weather Safe Rwanda, a UK-based company that monitors crop performance said that it is essential to support farmers with the latest equipment and provide them with essential information.
"Farmers need, not only equipment, but also information about variations in weather partners, market, soil fertility and texture, as well as topography to be able to carry out farming from a point of knowledge," Mills said.
"For the country to have sustainable food supply, it needs to emphasise extensive mechanised farming."