Farmers in Rwanda have been warned to take more care when handling pesticides so as not to risk their lives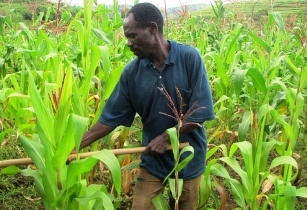 Farmers in Rwanda are being urged to learn the basics on the use of pesticides. (Image source: IFDC Photography)
The director-general of Rwanda Agriculture Board, Jean Jacques Mbonigaba, opened a three-day agricultural workshop in Musanze District, highlighting the health impact of pesticide use.
The aim of the workshop, which welcomed 50 pesticide experts from the Netherlands and East Africa, was to discuss experiences from East Africa so that regional countries can find an effective way to enable efficient pesticide management.
Addressing event attendees Mbonigaba stated that farmers and other people should keep equipment used in pesticide application seperate with domestic tools and need better knowledge and understanding on the use of pesticides.
"Pesticides are important for crops and without them it is hard to get good harvest, but they can also be dangerous for human life once not well used because they are poisonous, that is why we urge farmers to handle them cautiously," Atah Umega, the country representative of Food and Agricultural Organisation said.
"We want to make sure that farmers are trained and those who sell pesticides have the right information and make the right prescription to impart to the end users," Umega added.