The Rwandan government aims to increase the number of agro dealers in the country to 3,000 from the present 1,200 by 2018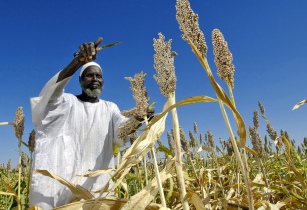 The National Institute of Statistics of Rwanda stated that the country's agriculture sector grew up by five per cent in Q1 2014. (Image source: Africa Renewal/Flickr)
This target is part of the government's efforts to boost agricultural productivity following the launch of phase 2 of the Agro Dealers Development Project, stated local reports.
"Under this arrangement, farmers will only pay 25 per cent of the total cost of the input. For instance, if a kilogramme of seeds costs three dollars, a farmer will pay around 72 cents and the government will cover the remaining amount. The same goes for other inputs like fertilisers," said Bosco Safari, CEO of Agribusiness Focused Partnership Organisation (AGRIFOP).
Through this effort, rural areas are likely to gain increased access to agricultural inputs. Farmers across Rwanda are still benefiting from agricultural subsidies in terms of fertilisers and improved seeds from the government, added Safari.
Phase 1 cost US$1.5mn whereas phase 2 is estimated to cost US$60,000. AGRIFOP has also called for proposals for the construction of an agro-sector development facility.
The National Institute of Statistics of Rwanda (NISR) stated that the country's agricultural sector grew by five per cent in Q1 2014, contributing 1.7 per cent to the nation's GDP.
According to Charles Murekezi, fertiliser programme coordinator at the Ministry of Agriculture, the project aims to increase smallholder farmer agro productivity and income through strong agro-business networks. This will also encourage competition and variety in the market.
Murekezi added that the goal was to improve food security and people's livelihoods by developing transitional rural markets in Rwanda and strengthen market processes. He noted that transforming subsistence agriculture to market-oriented agriculture was key for Rwanda to achieve sustainable economic transformation.