Soycom, an edible seed processing company, announced that it has signed an agreement with Rwandan farmers to promote the growth of sunflower, soyabeans and groundnuts in Rwamagana, Rwanda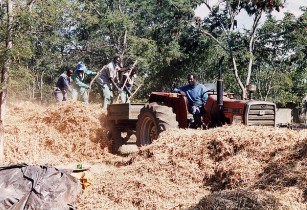 Rwanda is the sixth largest African country in soyabean coverage area after Zimbabwe, Malawi, Uganda, South Africa and Nigeria. (Image source: Martin Addison/Flickr)
Nick Barige, CEO of Soycorn, said, "According to the agreement, the processing firms in the region would pay local farmers competitive prices for the input to address challenges of inadequate raw materials."
The company said in a statement that the agreement would be a great opportunity for the farmers as it will generate more income for them.
François Kanimba, minister for trade and industry of Eastern Province, Rwanda, said, "We are helping the two parties to strike a deal, so it must be win-win situation. Farmers must grow more soya beans to feed the factory, but the factory must also think about how residents can benefit from it."
Odette Uwamariya, the governor of Rwanda's Eastern Province, urged farmers in the region to play their part on growing soyabeans in response to the growing demand of the crop.