Tanzania has set-up a new system to enable pastoralists and cattle traders monitor real-time market information on livestock, while keeping them informed of weather conditions which may affect their animals' well being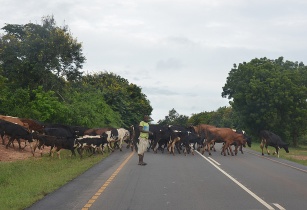 Tanzanian herders will be able to see real-time market information on livestock following the roll out of LINKS. (Image source: ILRI/Paul Karaimu)
The system allows livestock dealers to check costs in markets across the country, while being warned about drought and diseases that could affect herds, according to the Tanzanian government,
The Livestock Information Knowledge System (LINKS) features global positioning system (GPS) technology, text messaging and web-based computer analysis.
"We decided to establish this system because we value the contribution of pastoralists to our economy. However, more education is needed to enable them to make better use of (it)," said Saning'o Ole Telele, Tanzania's deputy minister for livestock development and fisheries.
The project began in 2013, and so far 53 out of 369 cattle markets are using the system, with a target of covering them all.
Evolving market trends allow LINKS to identify and provide early warning of food shortages for animals, grazing conditions in the area and disease outbreaks, Ole Telele stated.