Tanzanian smallholder farmers are seeking support to increase crop yield to improve agricultural knowledge and access to markets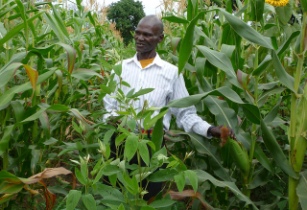 A survey carried out by Farm Radio International found that Tanzanian smallholder farmers felt they did nnot have much opportunity to voice their opinions. (Image source: ICRISAT)
A survey carried out by Farm Radio International revealed that more than half of the farmers had no access to good and reliable markets for their harvest.
Unveiling the results recently at an event in Dar es Salaam, under the theme 'Do Agric, It Pays', Farm Radio International executive director, Kelvin Perkins, said that the survey also showed that farmers have views on what could improve the agricultural sector but are rarely heard.
"Smallholders farmers represent about 75 per cent of Tanzania's agricultural production and the widespread participation in the poll is a clear indication that farmers want to be heard but don't have an instrument to voice their views and opinions," Perkins said.
"We do recognise the sector as the cornerstone of our economy, which provides income to about 75 per cent of the population; it is only fair if we would listen to what the farmers have to say on improving the sectors," he added.