The Agri-Business Capital (ABC Fund) has provided loans to three agri-businesses to support their working capital needs and their expansion, enabling higher rural employment and securing market access for farmers in their respective sectors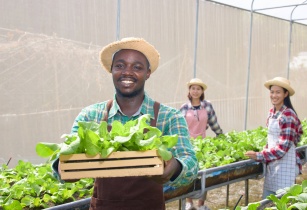 The ABC Fund provides three West African agri-businesses with commitments totalling US$1,219,445 to support future expansion. (Image source: Adobe stock)
The ABC Fund provided a loan of US$549,096 to Kaworo, a producer of grains (mainly maize, millet, sesame, cowpeas and sorghum) and seeds, to finance the purchase of grains for the 2021/2022 farming season. The loan is expected to enable the company to increase the number of farmers it works with, providing additional income to over hundred new farmers. The scheme currently has 525 outgrowers of which 28% are women and 40% are youth.
Etablissement Yaffa et Frères (EYF), a local fresh mangos exporters in Mali, is the only company in Mali to deliver mangos directly from its packing facility to supermarkets by air freight. The company received US$ 305037 in working capital to purchase mangos and related export costs, to meet the increased European demand for the product. The ABC Fund's financing will enable EYF to continue buying mangos from the current 310 farmers and employing 200 seasonal workers on the packaging site.
The loan will be used by ROCFED, exporter of mangos from the Côte d'Ivoire to purchase mangos from over 200 producers at a higher price than the market price, providing stable revenue for families across the region. The loan will also be used to hire five new permanent staff and 130 seasonal workers for this year's season.
The ABC Fund is a blended-finance impact fund which provides catalytic financing to underserved yet profitable segments of agribusiness value chains in developing countries. Prior to the above-mentioned investments, the ABC Fund has provided funding to three farmers cooperatives in Ivory Coast, three small-and medium agribusinesses in Burkina Faso and Ghana and two financial institutions operating in Ecuador, Kenya and Uganda which on-lend to smallholder farmers, for a total value of US$11mn. So far, about 18,000 small-scale farmers and their families have benefited from these investments and about 640 jobs have been created in rural areas.
Solène Prince-Agbodjan, investment director at Injaro commented, "Given the challenges caused by the global pandemic, we are pleased to have approved these loans in time to meet the seasonal working capital needs of these agri-businesses which are all important contributors to West Africa's rural economies. We commend the business owners and the team members for their hard work and persistence that made this possible. We look forward to a long and impactful relationship between these promising businesses and the ABC Fund."