USAID has partnered with Bontanga Irrigation Scheme to provide training to women farmers on rice farming technologies in Tolon-Kumbungu District of Ghana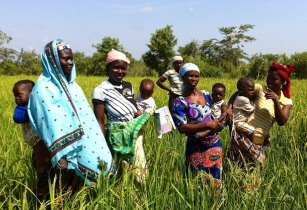 USAID through its flagship project called the Agriculture Technology Transfer would also promote new agricultural technologies in northern Ghana. (Image source: Eileen/Flickr)
Bontanga Irrigation Scheme was started in 1978 and is funded by the Ghanaian government.
According to USAID, three women groups from Saakoba Gbugli, Kukuo and Yipelgu communities in the Tolon-Kumbungu District have received training on alternative skills on rice farming technologies.
Bidjokazo Fofana, regional coordinator of International Fertiliser Development Center (IFDC), said, "The training was on rice farming technologies, which included rows transplanting, weeds control and application of briquetted urea fertiliser on rice farm. The training will empower the women to also educate others on the need to adapt the new technology to improve yields and earn extra income."
Musah Salifu Taylor, oganisational dvelopment advisor of USAID, added that the project would continue to promote farming technologies to help improve the productivity and quality of production in rice, maize and soya, which is an integral part of the country's wider growth strategy.